Welcome to Avis

Location de voiture à Istanbul
Que vous ayez besoin d'une petite citadine ou que vous prévoyez une longue visite, vous aurez l'embarras du choix avec les locations de voitures Avis. Vous trouverez notre gamme habituelle de services, avec l'assistance en cas de panne et les retours en dehors des heures d'ouverture, ainsi que les sièges enfants et le GPS en option.

Vous verrez ci-dessous les agences de location Avis à Istanbul et dans les environs. Cliquez sur les liens pour voir les informations détaillées pour chaque agence.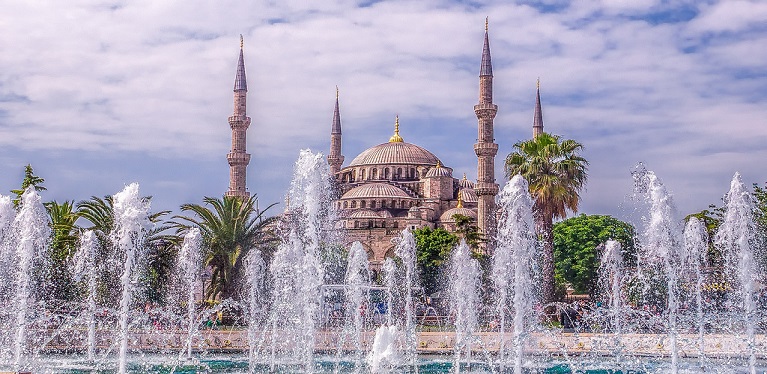 Where hustle and bustle and nature coexist
Whether in an agile small car or a comfortable four by four, a drive through Istanbul and its surrounding area has unforgettable experiences and views ready for you. From the central Taksim Square you can go in any direction in the city. Rent a car in Istanbul and cross the Golden Horn towards Galata and Pera in the west, from there you can use the Avrasya Tunnel, the world's only underwater connection between two continents and then cross the 15 July Martyrs Bridge back to Europe. An unforgettable tour through this lively city with its many faces.

Whether film festivals, parades, music events or swimming competitions – boredom isn't a word this city knows. The annual event calendar is packed full and has something perfect for every desire. Still not sure which? No problem – hire a car from Avis in Istanbul and you can visit lots of events.

If you would prefer to relax or have a refreshing dip, you are spoilt for choice, in the positive sense of the word. Dive into the Sea of Marmara from the Princes' Islands or feel the breeze from the Black Sea in your hair at seaside resorts such as Kilyos or Riva.

Instead of a sandy beach would you prefer to spend time among the greenery or walk in the shade of lush forests? Neither option requires hours of driving. In the Beykoz area of the city on the Asian side, directly on the Bosporus there is the Hıdiv forest with fountains and water pools, cafés and restaurants waiting for you. Another popular relaxation area is the Belgrad Forest to the north of Eyüp, approximately 20 km from the city centre. You can explore 5,500 hectares of leisure facilities and picnic sports as well as riding and walking trails.
Discover the Bosporus metropolis
Whether the European or Asian part, the Princes' Islands, the historic old town at the Golden Horn or the modern business and nightlife areas, in Istanbul there is a huge range of attractions which are worth visiting the whole year round. Get in your rental car, which you can also rent with a navigation system from Avis car rental in Istanbul and visit the highlights of the city in complete relaxation.

Topkapı palace
This palace has a history spanning 450 years and was the government headquarters of the Ottoman Empire as well as the residence of the Sultan. This magnificent building is situated on the Sea of Marmara and covers an area of 700,000 m2, believe it or not. It is not only the architecture that will take your breath away, it has the largest collection of Ottoman art in the world. For example, the palace hosts one of the oldest examples of the Quran as well as footprints from the Prophet Mohammed.

Blue Mosque
There are more than 3,000 mosques in Istanbul, but the Blue Mosque is unique with its splendour and elegance. Construction took a good 400 years, starting under Sultan Ahmed I and it continues to impress with its six minarets and unique beauty inside.

Hagia Sophia
In English, Hagia Sophia means "Holy wisdom" and is, without a doubt, one of the most imposing buildings on Istanbul's skyline. Rich in nearly 1,500 years of history, it has seen a lot. It was converted from a Greek Orthodox to a Catholic temple in the 15th century before being designated a mosque. But that too is history, since for more than 80 years this exceptional building has housed a museum which fascinates its numerous visitors every day.

Museums
Istanbul can name many more museums at its borders. Rent a car in Istanbul and discover the city's highlights. Dive into the history and the culture of the country and visit museums such as the Chora Church, the Archaeological Museum, The Museum Istanbul Modern or the impressive Dolmabahçe Palace. This is a sure thing for all art and culture lovers.

Agences de location de voiture populaires à Istanbul
Your car hire journey in Istanbul begins here
As soon as you get to our rental stations at the airport, in Kadiköy, Taksim or Yenikapi you will be well looked after. Whether you just need a little run around for a quick trip into the city, an elegant saloon for a business trip or a roomy minibus for a family holiday, the perfect car is waiting for you.

Frequent customers get an upgrade – as well as additional free days – by registering for our loyalty programme Avis Preferred.
Turkish driving laws
There are some things you need to be aware of when you rent a car in Istanbul. We have summarised the most important rules for you:

Drive on the right or left?
In Turkey, you drive on the right-hand side of the road.

Traffic laws
The use of mobiles phones while driving is strictly prohibited. Hands free kits are however, allowed. In the event of an accident call the traffic police and inform them. Do not move your vehicle. Radar traps are located on all roads.

By law you must carry your driving licence and the vehicle rental documents with you. An international driving licence is only required for countries with languages in non-roman script. You can translate it into Turkish if you want and take a notarised copy with you. It is also advised to carry your identification with you.

Seatbelts must be worn by all occupants. If vehicles cause obstructions or do not adhere to parking regulations, they can be towed away. Headlights must be used at all times.

The legally allowed blood-alcohol limit is 0.5 ‰. If this is exceeded and you are stopped by the police you will face stiff penalties and your driving licence will be retained for at least six months.

Speed limits
For a standard rental car from Avis without a trailer the following is applicable:
town centres: 50 km/h
motorways: 120 km/h
out of town: 90 km/h
Any divergence is signposted.

Obligations for child seats and seatbelt use
Seatbelts must be worn by all occupants. Children up to 1.50 m in height and weighing less than 35 kg must be carried in a suitable child seat. Children under 10 may not sit in the front seat. Please note that is it the responsibility of the parent or guardian, or the person renting the vehicle to fit a child seat.

Mandatory equipment in your Avis rental car
First aid box
Two warning triangles
Fire extinguisher